Follow your favorite riders!
7685 views | 0 now reading
Cycling is the most "touchable" sport out there. You can follow your favorite riders in everything they do, you can (almost) touch the stars of the sport on the side of the road, cheer them on at the finish line, and celebrate or mourn with them afterwards. You can completely immerse yourself in the emotions that make cycling the most beautiful sport there is.
To take that pure cycling experience a step further on the Pro Cycling Stats platform, you can now also "follow" your cycling idols on our website. With the new follow feature, you'll be immediately up-to-date when one of your favorite riders has participated in a race.
How does it work?
Well, here's how:
First, make sure you have an account on our website and that you are logged in into your account. Then, search for the profile page of a rider you want to follow. For instance: Évita Muzic. Once on the rider's profile page you'll find a grey 'follow' button on the top of the page, right next to the submenu. Click it, then the button will turn green and you're following the rider. You can add up to 10 riders to your 'followpeloton'. That number expands to 100 if you have a PCS PRO account.
When one of the riders from your followpeloton finished a stage or race, you'll see him or her highlighted at the results section of the specific stage or race on the homepage. A purple box will appear with the results of the riders your'e following behind them.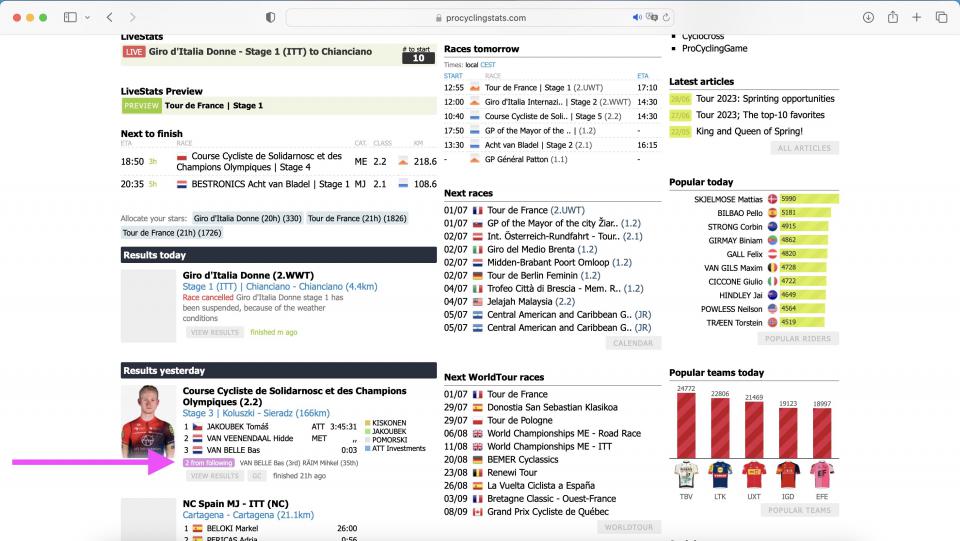 On the results page itself, a purple 'f' icon appears next to the names of the riders you follow, making their performance immediately noticeable.

In your own 'Pro Cycling Stats dashboard', you'll find more information and statistics about the riders you follow.
Take a look at the statistics we already provide about your favorite riders. In the future, this list will be expanded with even more interesting information about your follow peloton. If you feel like something is missing already, don't hesitate to let us know!