Continental teams that delivered the most professionals | 25 pro's from Conti Groupama-FDJ in five years!
6946 views | 0 now reading
'Development' is a fashionable term. More and more talented juniors skip amateur racing to directly become professional. To facilitate the scramble for the most promising future stars most of the WorldTeams and even a large number of Women's World Tour-teams these days have their own development outfits where they prepare young riders for the big leap to the pro ranks. In this article we're going to find out who the most successful men's teams are (and were) in terms of developing young riders.

To do so we'll be asking our database to show us how many first time professionals each non-pro team has delivered over the past number of years. With delivering first time pros we mean riders who've directly stepped up from a continental team to a ProTeam or WorldTeam (or equivalent) and who've never been in a professional team before. Each rider making his debut for a professional team counts as one delivered pro team for the last non-pro team he raced for.

Enough introduction, let's go on with the facts!


If there's a winner in this stat, then the flowers are going to Besançon. Equipe Continentale Groupama-FDJ tops the list with 25 delivered professional cyclists over the past five years, who've signed with a surprisingly high number of eleven different professional teams. To get to know the team a bit better and to find out reasons why the team is this successful in boosting riders into the pro ranks, we've had a chat with Jérôme Gannat, Sports Director and coach with the team since its creation in 2019.


ML: Is it a surprise for you that Equipe Continentale Groupama-FDJ is all the way at the top of the list?

JG: Yes and no, to be honest. It's in the DNA of a development team to train riders to turn professional. It is our main objective. We also still have a vision that if the riders of Conti rating were not retained in our WT team, that training within the Conti would help them find another professional team. We also have the strong vision that if the riders within our Conti team can't find a spot on our WorldTeam, the training within the Conti team would atill help them find another professional team.
It is very interesting to see that riders from Equipe Continentale Groupama-FDJ end up with eleven different teams compared to Team DSM, where all 18 riders become pro with their own WorldTeam. Is that something that makes you proud or are you fueling the competition?

Indeed, it's the most natural thing that the riders of a development team are joining the "mother" team at some point. But depending on the external signings and the number of places available in the 'mother' team, every year can be different. As a Sports Director of the development team, I prefer that the riders stay with us, but we know that that is impossible for all of our twelve riders on the continental roster.

But it's still a great feeling, a relief and huge satisfaction that the majority of our continental squad can continue their professional career. It also means that our development team is a good school and that it was the right decision by the 'mother' team to incorporate a development team. Last year eight of our riders found a place on our WorldTeam. It is a great satisfaction that we can provide our WorldTeam with new waves of talent every year.
Can you tell me something about the philosophy of the team and what makes it different from the average teams that focus on younger riders?

Marc Madiot has never set us result objectives in terms of number of victories, UCI points or Europe Tour ranking. Instead, he wants us to focus on our work on the training and development work. Our whole philosophy is focused on the emancipation of the individual within the collective of the team. When one of our riders turns pro in the WorldTour, we want him to bring added value to the team, both as an individual and as part of the collective. He must be ready for the professional level both physically and mentally.
The sporting environment is getting more and more demanding and that is why we need to prepare our group of riders for that. We do everything we can to ensure that our riders feel good within the team and also that they are and continue to be passionate about their job! Personally, I think passion and desire are the engine for a successful and satisfactory career. Above all: the pro cyclist have to love cycling. That is something that can't be forgotten in the training and development of each individual rider.

Another important point that makes our team special is the accommodation system we provide to our riders, as the team rents two houses in the Besançon area where our service course and sports centre (which is linked with the Université de Bourgogne - French-Comté) are based as well. Our riders live there from March until October. This geographical concentration between our riders, coaches, medical and technical staff is strengthening our social and professional cohesion.
The fact that the riders live together seems to be a very big asset for the team?

Definitely! It is a fantastic experience to live together. The better comfort some could see from staying at home is more than compensated with the benefits of the community we have in Besançon. In 2022 we won 28 races, where the first UCI Continental team in the final Europe Tour ranking in Europe Tour and we knew that we had an exceptionally talented group of riders, but I kept on repeating that we had to do everything as a team. We must create a strong group together and then the victories will automatically follow. In the end twelve out of our thirteen riders won at least one race. What I take from that is that individuals are happier and stronger when they live, train, race and think as a team.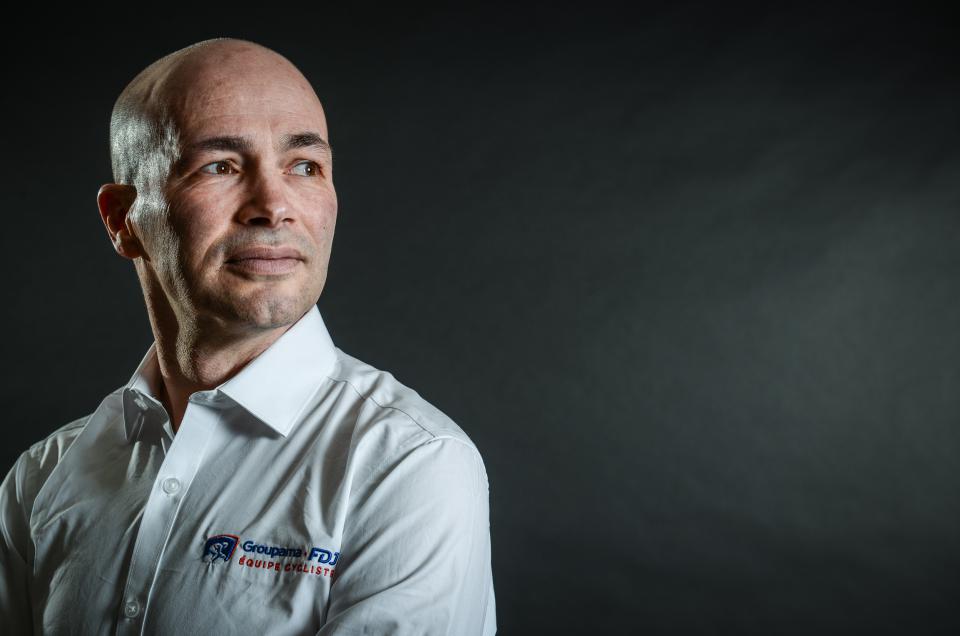 My last question is: what is your personal joy in working with your talented riders? What motivates you the most to work with the development team?

Before I joined the Groupama-FDJ-team I was Sports Director and manager of Club Cycliste Etupes (a famous club from the French Doubs-department on the Swiss border, focussing on the best (French) youngsters, editor's note). That's the club where Thibaut Pinot, Warren Barguil, Guillaume Martin, Adam Yates, Kenny Elissonde, Alexys Vuillermoz and Hugo Hoffsteter raced for as kids. For me it was a logical step to continue working with a development team. With those teams the numbers and names change every year. For example, this year eleven of our twelve riders are new. Each new year it is as if it were a new start. You have to start building a collective, coaching new talents and create a team again. At the start of the year it is always the question how the season will turn out and how you can help each individual to make step closer to they potential. That is for me my engine to move forward.
Most delivered pros since 2000
Teams are listed with their first name, for example: Trek - Livestrong presented by Radioshack transformed into Hagens Berman Axeon and Team Volksbank is Team Vorarlberg nowadays.